After a frantic few days of testing and fixing

Tappy,

getting it ready for the Android release it's now time to start our next App currently named BPF!

Our last few Apps have been built using Unity, but this App is going to be a diversion from Games and will be a Social App. We want it to be cross platform so I'm going to be trying out React Native.

I've not used React or React Native before so I'm going to share my learnings, tutorials and components used as I work through the build.

I usually spend a week or two with a book to kick start so I've just bought this one:

Getting Started with React Native https://www.amazon.co.uk/dp/1785885189/ref=cm_sw_r_cp_awd_.-ubxb59BZFVZ

Ive configured my Mac following the Introduction from Facebooks React site, I'm using VSCode as my editor, I've got the hello world App running, time to start reading. More in a few days.
Powered by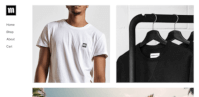 Create your own unique website with customizable templates.